Loaded Baked Potato Scramble Bowl
The ultimate comfort food breakfast fix for a hungry diner.
Prep time: 10 min
Makes: 1 serving
Cook time: 0 min
Nutritional Information
PER SERVING
Calories 650
Fat 48 g
Saturated Fat 18 g
Cholesterol 706 mg
Carbohydrates 23 g
Fibre 5 g
Sugars 1 g
Protein 35 g
Sodium 1040 mg
Potassium* 830 mg
*Some ingredients used in the analysis do not provide potassium information, so the potassium mg per serving may be undervalued.
Ingredients
2 tsp / 10 mL

each vegetable oil and butter, divided

3/4 cup / 175 mL

Prestige Ultra™ Liquid Whole Egg

3/4 cup / 175 mL

chopped baked potato with skin (about 1/2 medium Russet potato)

1/4 cup / 60 mL

chopped cooked bacon (about 2 slices)

1/4 cup / 60 mL

shredded Cheddar cheese

1 tbsp / 15 mL

sour cream
Chopped green onion
Directions
Heat half the oil and butter in a small skillet set over medium-low heat; add eggs and softly scramble until just about set (about 2 minutes).
Meanwhile, crisp baked potatoes on the flat top or in a separate skillet until golden. Add potatoes to scrambled eggs and stir gently to combine.
Transfer egg mixture to a serving bowl and top with bacon, Cheddar, sour cream and green onions.
Tips
Customize and add colour to bowls with additional vegetable toppings such as blanched broccoli spears, diced peppers, corn, sautéed mushrooms etc.
Make this a steakhouse breakfast bowl by topping with sliced cooked steak and a drizzle of steak sauce.
Bake potatoes at 350F (180C) for 60 minutes or until fork tender and skin is crisp. Cool to room temperature and roughly chop. Reserve in refrigerator for up to 3 days.
Bake bacon on a rack on a rimmed baking sheet at 350F (180C) for 25 to 30 minutes or until crisp; cool and chop. Reserve in refrigerator for up to 3 days.
Step by Step Scramble Bowls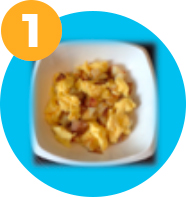 Scramble Base
Scrambled Prestige Ultra Liquid Whole Egg and crispy baked potato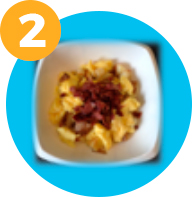 Topping Layer 1
Add crumbled cooked bacon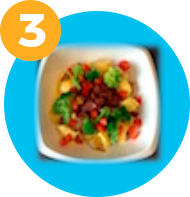 Topping Layer 2
Add blanched broccoli and diced red pepper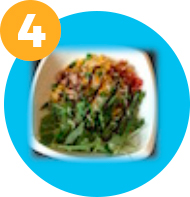 Optional Garnish
Shredded Parmesan, green onions and balsamic drizzle