Super Green Egg White Scramble Bowl
Vibrant avocado and a flavourful herb sauce give bold flavour to this wholesome bowl.
Prep time: 10 min
Makes: 1 serving
Cook time: 0 min
Nutritional Information
PER SERVING
Calories 380
Fat 23 g
Saturated Fat 3.5 g
Cholesterol 0 mg
Carbohydrates 13 g
Fibre 5 g
Sugars 2 g
Protein 33 g
Sodium 7000 mg
Potassium* 770 mg
*Some ingredients used in the analysis do not provide potassium information, so the potassium mg per serving may be undervalued.
Ingredients
3 oz / 90 gr

mixed sauté* greens (about 3 cups/750 mL)

2 tsp / 10 mL

olive oil

1 cup / 250 g

Naturegg™ Simply Egg Whites™

1/4 / 1/4

avocado, sliced

1/4 cup / 60 mL

halved cherry or grape tomatoes

1 tbsp / 15 mL

Zesty Herb Drizzle (see below)
Crumbled goat cheese (optional)
Toasted slivered almonds, chopped pistachios or pine nuts (optional)
Directions
Combine greens with a splash of water in a small, nonstick skillet. Cover and cook over medium heat for 3 minutes or until just wilted. Transfer to a serving bowl. Wipe out skillet.
Return skillet to heat with oil, reduce to medium-low. Add egg whites; cook, without stirring, for 3 to 4 minutes or until almost set. Scramble gently into large curds. Spoon over wilted greens.
Top eggs with avocado and tomatoes. Add Zesty Herb Drizzle. Garnish with goat cheese and nuts (if using).
Tips
You can purchase pre-mixed sauté blends or combine a variety of heartier chopped or baby greens such as spinach, Swiss chard and kale for your own blend
The key to large, soft egg white curds is to cook over medium-low heat and avoid stirring until the whites are almost set or opaque.
Step by Step Scramble Bowls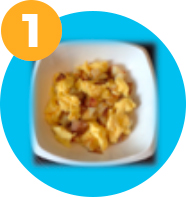 Scramble Base
Scrambled Naturegg Simply Egg Whites and wilted greens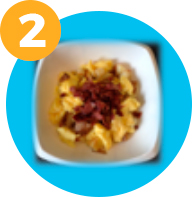 Topping Layer 1
Add sliced avocado and tomatoes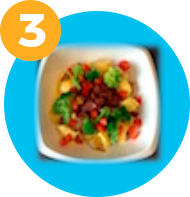 Topping Layer 2
Add zesty herb drizzle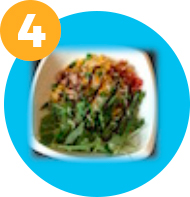 Optional Garnish
Crumbled goat cheese and toasted nuts
Advance Preparation
Prep time: 5 min
Makes: 20 servings or about 1 1/4 cups (300 mL)
Cook time: 0 min
Ingredients
Zesty Herb Drizzle:
5 cups / 1.25 L

lightly packed parsley leaves

1 1/3 cups / 325 mL

lightly packed cilantro or basil leaves

1/3 cup / 75 mL

fresh lemon juice

4 / 4

cloves garlic

1 tbsp / 15 mL

Sriracha or another hot sauce

1 tsp / 5 mL

each salt and pepper

2/3 cup / 150 mL

olive oil
Directions
Combine parsley, cilantro, lemon juice, garlic, Sriracha sauce, salt and pepper in a blender or food processor; pulse until finely chopped. Blend in olive oil until well combined. Adjust seasonings to taste. Transfer to a jar and reserve in refrigerator for up to 4 days. Makes 1 1/4 cups/300 mL.
Tips
Sriracha sauce can be adjusted to taste or omitted altogether if desired.